Ellora Caves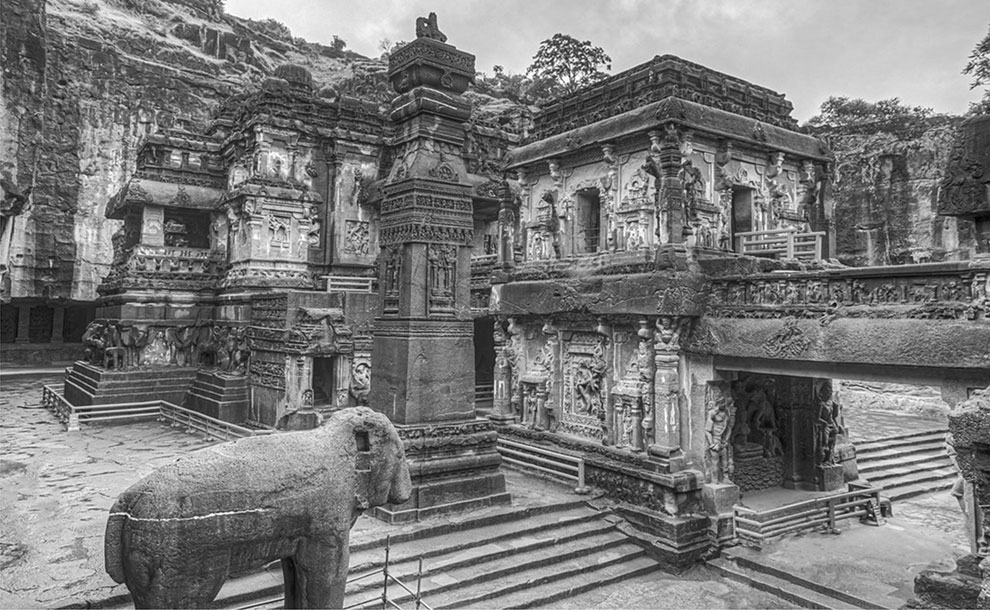 Ellora is a sacred site in Maharashtra, central India. The Ellora Caves are listed by UNESCO as a World Heritage Site and is celebrated for its Hindu, Buddhist, and Jain temples and monuments which were carved from the local cliff rock in the 6th to 8th century CE. The most spectacular example is the 8th century CE Kailasa temple which, at 32 metres high, is the largest rock-cut monument in the world. Located in the Sahyadri hills near Aurangabad, Ellora is the most important second-wave site of ancient rock-cut architecture in India. In the western face of one hill, composed of volcanic Basalt rock, there are 35 caves and rock-cut temples, largely produced during the reign of the Kalachuri dynasty in the 6th and 7th centuries CE.
The earliest cave, the Hindu Ramesvara (no. 21), dates to the 6th century CE. Typical of early Hindu temples there is an inner sanctum (garbhagriha), a circumambulatory corridor for worshippers to walk around, vestibules with double porticoes, and extensive decoration via high-relief friezes and carvings depicting scenes from the Puranas sacred texts. Cave 21 has carved river goddesses on the exterior,a Nandi sculpture at the entrance and inside are both a large dancing Shiva surrounded by musicians and Durga slaying the buffalo demon king. Other points of interest are the use of couple figures for brackets (salabhanjikas) as well as reliefs of elephants and mithuna (lover) figures.
The Buddhist caves are amongst the largest excavated anywhere and were carved later than the Hindu ones, probably between the 7th and 8th centuries CE. Their layouts are more complex and the capitals in the colonnades are either the vase and foliage or chamfered cushions type. Cave 5 is especially grand and unusually deep. It has 17 cells and a large rectangular hall with two rows of 10 columns between which are set stone benches in two rows. The function of these remains a mystery beyond the surmise that monks gathered there for assemblies of some sort.
The Kailasa temple (structure no. 16) is one of the most spectacular monuments in the world and it is the largest rock-cut structure anywhere. Built by KrsnaI (r. 756-773 CE) of the Rashtrakuta dynasty to celebrate his victory over the Pallavas, it increased even more the grandeur of Ellora, which had been made capital by Dantidurga, Krsna's predecessor, following his victory over the rival Chalukyas in c. 753 CE.