Wadali Brothers - Padmashri Ustad Puran Chand Wadalia & Ustad Piyare Lal Wadali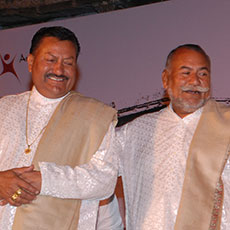 For the ones familiar with the music world, especially those with Sufi singing, Wadali Brothers..Padmashri Ustad Puran Chand Wadali and Ustad Piyare Lal Wadali...need no introduction. Born to the fifth generation of musicians singing verses and wisdom of the Sufi saints, Puranchand Wadali studied music from the celebrated masters Pandit Shri Durga Das Ji and Ustad Bade Ghulam Ali Khan Sahib of the Patiala Gharana. Pyarelal was trained by his elder brother whom he considers his mentor and Guru.
Wadali Brothers sing the Gurbani, Kaafi, Ghazal and Bhajan genres of music. Living in their ancestral home in Guru ki Wadali they teach music to the devoted ones committed to preserving the tradition. They sing as homage to the divine. Presenting verses of Baba Farid Sahib Ji, Baba Bulle Shah Ji, Shah Hussain Ji, Saif-Ul-Maluk Ji and Shiv Kumar Battalvi is their forte, besides the folk tales of Sassi-Punnu, Laila-Majnu, Heer-Ranjha and others.
Singing verses of Sufi Fakirs like Amir Khusrou Sahib and others , in an enchanting way, is a special feature of their music.