Vidwan T.H.Vikku Vinayakram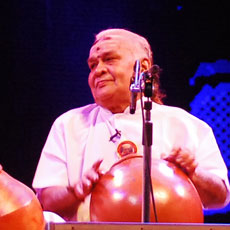 Vikku Vinayakram was a child prodigy, with his concert career beginning at the age of 13. Vikku's tryst with the international music platform came in the early 70's when he joined Shakti to play along with John McLaughlin and Zakir Hussain.
Vikku Vinayakram was conferred the Hafiz Ali Khan Award for "unmatched contribution in the field of music" in 2000. T. H. Vinakayaram is also the first South Indian musician to be awarded the Grammy for Best World Music Album for his participation in Mickey Hart's Planet Drum in which he played the Ghatam and Morsing. The Indian Government has conferred him with the prestigious Padmashree Award.