Shri Dharmiklal Pandya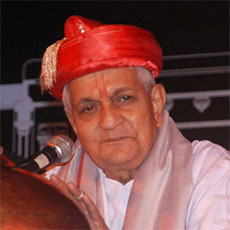 It is said that Raskavi Premanand had created about 40 Aakhyans ( poetic recital) and Shri Dharmiklalji has learnt all of them by heart.
Born in 1932 at Vadodara, Dharmiklalji has developed the art of Aakhyan with ease. For his recitals he plays the MAAN (copper pot ).
Recipient of many coveted awards, it has been Dharmiklalji's life long endeavour to keep a 400 year old traditional legacy of Maankala along with the poetic creations of Raskavi Premanand alive.