Anders Hagberg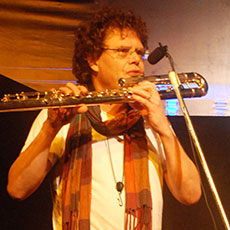 Anders Haqberg's background is in jazz. Over the years he has been influenced by music from many cultures and genres. He has had a long collaboration with Indian and Japanese musicians.
Anders has performed worldwide with groups such as Mynta, Yggdrasil and New Jungle Orchestra as also with his own projects Winduo and Earthsongs.
His own solo CDs, which use traditional Nordic sounds as a point of departure for improvisations were nominated for Grammies.